Dissertation Bin Xiao
EVENT
Date:
13 June 2017, 1.00 PM
-
13 June 2017, 5.00 PM
Venue:
Lilla hörsalen, DSV, Borgarfjordsgatan 12 (Nodhuset), Campus Kista
Bin Xiao will defend his thesis "Data-Centric Network of Things: A Method for Exploiting the Massive Amount of Heterogeneous Data of Internet of Things in Support of Services"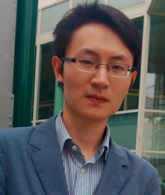 Internet of things (IoT) generates massive amount of heterogeneous data, which should be efficiently utilized to support services in different domains. Specifically, data need to be supplied to services by understanding the needs of services and by understanding the environment changes, so that necessary data can be provided efficiently but without overfeeding. However, it is still very difficult for IoT to fulfill such data supply with only the existing supports of communication, network, and infrastructure; while the most essential issues are still unaddressed, namely the heterogeneity issue, the recourse coordination issue, and the environments' dynamicity issue. Thus, this necessitates to specifically study on those issues and to propose a method to utilize the massive amount of heterogeneous data to support services in different domains.
This dissertation presents a novel method, called the data-centric network of things (DNT), which handles heterogeneity, coordinates resources, and understands the changing IoT entity relations in dynamic environments to supply data in support of services. As results, various services based on IoT (e.g., smart cities, smart transport, smart healthcare, smart homes, etc.) are supported by receiving enough necessary data without overfeeding.
The contributions of the DNT to IoT and big data research are: firstly the DNT enables IoT to perceive data, resources, and the relations among IoT entities in dynamic environments. This perceptibility enhances IoT to handle the heterogeneity in different levels. Secondly, the DNT coordinates IoT edge resources to process and disseminate data based on the perceived results. This releases the big data pressure caused by centralized analytics to certain degrees. Thirdly, the DNT manages entity relations for data supply by handling the environment dynamicity. Finally, the DNT supply necessary data to satisfy different service needs, by avoiding either data-hungry or data-overfed status.
Click this link to read the thesis