Barry Brown's research on Smart Implicit Interaction receive SEK 12 million
The Swedish Foundation for Strategic Research (SSF) has awarded a framework grant within the call Smart Systems 2015. Barry Brown, Professor at Stockholm University´s Department of Computer and Systems Sciences, and Research Director at the Mobile Life VINN Excellence Centre, receive SEK 12 million for "Smart Implicit Interaction".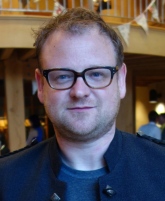 This project will design future technologies which can act implicitly, without the need for a disruptive interface. This work builds on Mobile Life's work on speech and physical interfaces.
The total grant, which is SEK 33 million has a funding period of five years and is shared with Kia Höök, Professor at KTH Royal Institute of Technology.