Delivering outsourcing services in diverse contexts with a new approach
Janis Stirna, Jelena Zdravkovic and Martin Henkel at the Department of Computer and Systems Sciences, Stockholm University, have developed a new method, CDD (Capability Driven Development), and tool to help businesses adapt to rapid changes in the world.
The method and the tool are designed for companies with flexible operating structures and the need to regularly monitor the development of their business because they are directly affected by changes in the environment. An emerging challenge to dynamic and global companies, such as, for instance in business process outsourcing, financial services, IT services, and component industry. Even in the public sector, there is a need for agile reaction on changes in the operating environment.
A traditional approach based on reactive analysis of change followed by implementation and deployment are often too unresponsive for modern companies. Thereby, CDD integrates both design and run-time monitoring and adjustments to become more responsive. CDD is primarily based on graphical models and covers everything from the analysis of the company's current situation to change and improvement of the company's capabilities and service offerings.
A key focus of CDD is to support the analysis of the environmental factors that affect the business, which is business context analysis.
The CDD method allows monitoring and assessing how the company's abilities and services meet global changes in the best way and how the company is performing according to set KPIs. The CDD tool then helps businesses to customise and run their existing IT systems in a more efficient way. It also allows visualising the changes and notify the IT governance system that changes have occurred so that the system can carry out adaptations.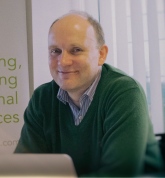 The methodology and the tool are based on the principle of continuous analysis and identification of the necessary adjustments to the operating environment. That simplifies drastically the possibility of detecting situations where you need to act immediately, for example, if new legislation is passed or when significant changes in customer demand or behaviour occur, says Janis Stirna, Project Manager for CaaS, the EU project that developed CDD.
Participating researchers:
CaaS - a European collaborative
The CDD method has been developed in the project CaaS and financed by the EU during the period 2013-2016. Janis Stirna, Martin Henkel and Jelena Zdravkovic have coordinated the project and worked together with other research institutions – Riga Technical University (Latvia), the University of Rostock (Germany), and the Universitat Politecnica de Valencia (Spain). The CDD tool was jointly developed by Croz (Croatia) and Altice Labs (Portugal).
Both the methodology and the tool, have been applied at CLMS (UK), and Everis (Spain) and Siv AG (Germany) and from the application results are now being commercialised by the industrial partners Everis, Croz, CLMS, and Altice Labs. The project results are going to be presented to the EU project evaluation team in Brussels in October 2016. In 2017 the results will be published in a book by Springer Publishing.
Click this linke to read more on CaaS own website