Digitalising Mental Healthcare Access in Uganda (DiMHA)
The research project Digitalising Mental Healthcare Access in Uganda (DiMHA) uses the ongoing global digital transformation to improve people's mental health in low and middle-income countries like Uganda that bears a disproportionate mental health burden. The limited access to appropriate care has exacerbated the COVID-19 since social distancing rules mean that patients and health workers have difficulties accessing services.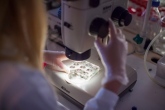 The proposed call centre will have an Interactive Voice Response (IVR) component in which carefully curated mental health information in an audio format recorded in Uganda's major languages.
The partnership is composed of a multidisciplinary team. The researchers represent the Department of Computer and Systems Sciences at Stockholm University, RISE Research Institute of Sweden, Makerere University's College of Health Sciences, Butabika National Referral Mental Hospital and Uganda Cancer Institute.
Click the link to read more on Digital Futures website
About Digital Futures
Digital Futures is a cross-disciplinary research centre that explores and develops digital technologies of great societal importance. It was jointly established in 2020 by KTH Royal Institute of Technology, Stockholm University and RISE Research Institutes of Sweden, based on significant long-term support of a Strategic Research Area by the Swedish Government.