GLOBHE and Stockholm University carry out landscape analysis project by drones
Monica Winge, PhD and affiliated researcher at the Department of Computer and Systems Sciences, Stockholm University, will carry out an Unmanned Aerial Vehicle (UAV) landscape analysis project in collaboration with drone consultant company Globhe. The analysis is made for the development agency Chemonics International under their Global Health Chain Supply Program and for United States Agency for International Development (USAID).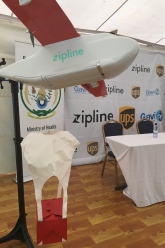 Monica Winge will participate as researcher in project analysis and project execution.
- The project will evaluate ongoing drone projects globally using drones as a means of transportation for example blood and tissue samples from remote healthcare locations, over rugged terrain to central hospitals and labs, and in the other direction transport medical drugs, vaccine and blood, Winge clarifies.
The analysis is planned to finish in the end of 2016 and the results will be published as a report at the same time.
- This will be a very interesting project, and it's a clear indication of interest that the international development community has become aware of the potentials of UAV's to enhance health supply chains, states Helena Samsioe, CEO of Globhe.
In addition, Monica Winge is working with Globhe and diagnostic company Hemocue, analysing the potential of drones to transport Hemocue point of care testing machines and blood samples more efficiently to remote health centres in eastern Africa.
Click the links below to find related information on external websites