How to have a meaningful videochat...with your dog
Quarantine, social distancing, and travel restrictions under Covid-19 mean that many people stay in touch with their dogs via video-calls. Looking at our dogs fills us with joy, but what do dogs get out of the experience? Oskar Juhlin, professor at Stockholm University, comments on an article based on his research in Wired.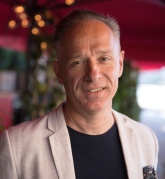 Today, a wide range of pet cameras do everything from alerting you when your dog barks to dispensing treats at your approval. Researchers who create wearable technology have helped design a vest that allows dogs to press buttons to express different messages. Recently, an AI-powered dog collar was developed that analyzes your dog's barks to tell you whether it is happy, anxious, angry, sad, or relaxed.
When designing the latest technology for dogs, we have to consider what the dogs want out of the technology instead of what the technology can do for us. Some experts say there is evidence to suggest it may be beneficial for both the owner and the dog to stay in touch virtually. Others are sceptical since you can train a dog to enjoy such a call.
Oskar Juhlin comments on the article in the Wired, and the research that has traditionally been based on studying how people interact with technology.
- For us, within Computer Science, a continual problem is to try to understand technology's usage and user's needs. It has not been easy to link technological development to people's wishes, even though we have been able to talk them, says Oskar.
Oskar further comments that now that animals and computers are involved, it becomes even more difficult to design for the "users". Experts have generalised knowledge of many dogs, whereas dog owners have specific expertise from their own animal and should act on it.
- When animals are involved, it becomes an easy way out to turn to animal researchers to get an understand what they want, but we should also rely on dog owners. Even if the owners do not have knowledge based on controlled experiments with many dogs, they have a lot of experience about their dog from having spent time with it for a long time. A dog owner cannot decide if it is good with video calls for dogs in general. Still, maybe they can decide if their animal appreciates a conversation over Zoom or Facetime, Oskar concludes.
Click the link to read the full article "How to Have a Meaningful Video Chat … With Your Dog", 2021-02-13, on Wired's website.
Read more about Oskar Juhlin's and Fredrik Aspling's research on dogs and dog owners.