Improve your digital competences on-line with eSkills Match
eGovlab, Stockholm university, hosted a workshop on March 31st about the prototyping of the platform eSkills Match, a European-wide learning system that will identify the lack of e-skills and digital competences and offer tools and methods to gain (re)-training.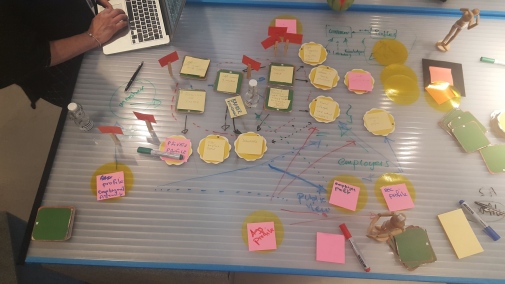 eSkills Match is an EU-co-funded project co-ordinated by eGovlab, a centre for eGovernance at the Department of Computer and Systems Sciences (DSV), Stockholm university. The project aims to develop a learning system that will help the users to identify any potential lack of necessary e-skills and digital competences to become more competitive for desirable jobs within ICT and non-ICT sectors.
On March 31st eGovlab invited the project partners to a hands-on workshop to share ideas on the design and prototyping of the platform. The group worked on shared solutions to visualize the project and its aims. The workshop gave the participants understanding of the end user perspective and the technical requirements. During several co-creation sessions, design sketches and mock-ups were presented and discussed.
"I am convinced that soon we will roll out a product to market that will be a true guide to the youth and unemployed that shifts course material towards market needs" said Vasilis Koulolias, Project Coordinator for e-Skills Match at eGovlab, DSV.
The participants at the workshop are also partners of the project. They were: José María Gutiérrez from the University of Alcalá (Spain), Ruggero Nocerino from ADFOR (Italy), Lorenza Leita from Fondazione Politecnico di Milano (Italy), Vasilis Koulolias, Pooyeh Mobini, Monica Winge, Jelena Zdravkovic, Mary Petrisopoulou and Myrsini Glinos from eGovlab/Stockholm university (Sweden). Guest experts at the workshop were Somya Joshi, eGovlab and Erik A Perjons, Department of Computer and Systems Sciences (DSV).
Read more about eSkills Match in the press release below and by visiting the website.