Jean Claude Byungura wins the Outstanding Paper Award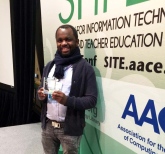 Jean Claude Byungura, the Department of Computer and Systems Sciences at the Stockholm University in Sweden and University of Rwanda in Rwanda, wins the Outstanding Paper Award at SITE 2019 for his paper "Development and Validation of a Holistic IT-institutional Alignment Model for Higher Education institutional performance".
Click the link to read more on University of Rwanda's website
SITE (founded in 1990) is a society of AACE-Association for the Advancement of Computing in Education. AACE (founded in 1981) is an international, educational, and professional organisation dedicated to the advancement of the knowledge, theory and quality of learning and teaching at all levels with information technology.
The SITE 2019 conference was held in Las Vegas, USA, February 18-22.