Self-driving cars confuse pedestrians
Self-driving vehicles suffer from a communication problem in that pedestrians or other drivers often struggle to know what they are going to do next. Barry Brown, points out that while robot cars are safe, their actions can sometimes seem strange to humans.
Click the link to see Barry Brown in "Des chercheurs se déguisent en siège pour étudier les interactions entre humans et voitures autonomes", in the French newspaper Le Monde's video, 2017-11-17.
Researchers at Virginia Tech University in the United States are developing a method that uses light panels. To test them, they created a car seat suit in which a scientist hides, allowing themselves to be invisible and but still operate the car.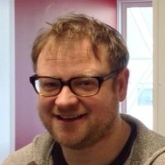 "Yet vehicles without drivers must also communicate by their movements, and that is why it is essential to teach them how to better interact with other road users", explains Barry Brown, Professor in human-machine interaction at Stockholm University.
India - next country where to study driverless cars
Barry is currently working on a project with Nissan Cars, looking at driving in India, a country where the frequency of traffic collisions is amongst the highest in the world. In India, the diversity of road users can make for challenging driving conditions - for humans and possible self-driving agents.
Click the link to read Barry Brown's research article "The Social Life of Autonomous Cars".