Fact Sheet - The Department of Computer and Systems Sciences, DSV
Fact sheet for international exchange partners and incoming exchange students.
Stockholm University - contact information
Name of the university: Stockholm University
Postal address: The international office, Stockholm University, 164 91 Stockholm, Sweden
Visiting address: Studenthuset, Universitetsvägen 2 B, Campus Frescati
Erasmus code: S STOCKHO 01
Website Stockholm University/study (su.se/study)
Phone: +46 8 16 20 00 (switchboard)
E-mail for general enquires: exchange@su.se
Profile
A leading European university
In a changing and globalised world, Stockholm University contributes to the development of a sustainable democratic society through knowledge, enlightenment and the pursuit of truth, based on critical thinking.
Ranked among the world's top 100 universities, Stockholm University is one of Europe's leading centres for higher education and research in science and human science. With a large number of students, a wide range of education and a combination of independent basic as well as strong applied research, it contributes actively to society – a role that has characterized the University since its inception in 1878. In the capital of Sweden, Stockholm University places special emphasis on offering courses and programmes that meet the needs of the region and of society.
Department - contact information
Name of the department: Department of Computer and Systems Sciences, DSV
Postal address: Stockholm University, DSV, Post box 7003, SE-164 07 Kista, Sweden
Visiting address: Campus Kista, Nod Building, Borgarfjordsgatan 12, Kista
Website for exchange studies at DSV (dsv.su.se/exchange)
Phone: +46 8 16 20 00 (switchboard)
International coordinator: Suk-hi Cho
Director of International Office: Dr Andrea Andrenucci, Director of studies, First and Second cycle
E-mail for incoming students: exchange-in@dsv.su.se
E-mail for outgoing students: exchange-out@dsv.su.se
Profile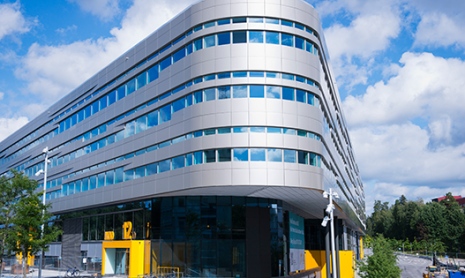 The Department of Computer and Systems Sciences (DSV) is Stockholm University's largest. With a close relationship to society and one of the world's greatest ICT clusters, well-established infrastructure and stable financial base, DSV has the best conditions to engage in both Swedish and international education as well as research.
Interdisciplinary education and research
The academic activities at DSV range over a broad field characterised by interdisciplinarity, focused on developing and adapting the use of IT for the needs of people, business and society.
Right in the middle of one of the world's leading ICT clusters
DSV resides in Stockholm, right in the midst of one of the world's leading ICT clusters, Kista Science City. There are more companies and research institutes in a limited area than anywhere else in Sweden. This provides DSV with unique opportunities to link our academic activities to the industry and organisations. Together we are able to create new business ideas, community services and cultural and creative industries with the support of IT.
General information
Academic calendar
Academic calendar (su.se/termdates)
Examinations are arranged in the end of each course. DSV is closed from Friday before Christmas and opens the second week of January.
Orientation and welcome days
Autumn: The week preceding the start of the autumn semester includes the important information session at the Department on Campus Kista and the central welcome day and orientation with socialising activities on Stockholm University's main Campus Frescati.
Spring: The information session at the Department on Campus Kista will be held either at the end of the week preceding the start of the spring semester or the first day of the spring semester before the orientation and welcome activities on main Campus Frescati.
Courses
Courses within Computer and Systems Sciences are offered as individual courses/modules of 7.5 ECTS each.
Language of instruction
Courses within programs at Bachelor level are generally taught in Swedish.
Courses at Master level are taught in English.
Full time study load credits
The national system of credits HP (högskolepoäng) is the equivalent of ECTS. Full time studying is 30 credits per semester and 60 credits in a 40-week academic year. The study week is 40 hours including lectures, individual and group assignments, laboratory works, supervision, seminars and independent studies.
Structure of the semester
The semester at DSV is divided into two periods: A-B and C-D. Each period is 10 weeks. Exchange students are recommended to not take more than 30 ECTS per semester and two 7.5 credit courses simultaneously in both periods (four courses each semester). Exchange students can take extra Swedish language courses for international students at the department of Swedish Language and Multilingualism.
Application information
Nomination
The partner university nominates students via e-mail to: exchange@dsv.su.se
Please ask for the nomination Excel form for this and provide us with the name of the student, date of birth, disability (if any), e-mail address and exchange period at DSV.
Deadline for nomination for Autumn semester or one academic year: April 15
Deadline for nomination for Spring semester: October 15
Application
When you are nominated, you will receive information regarding application via email from our International coordinator.
Required documents for application
Students make an online application and upload required documents:
Transcript of records. It must include academic achievements until now. If you are a Master student, submit your Bachelor's diploma and transcript.
Certificate of your current university registration.
Proof of English proficiency.
Course selection form/learning agreement.
Certificate of disability (if available).
Valid national passport and ID (no originals needed).
General requirements
Students must:
have completed at least one full-time year of studies in computer and systems sciences corresponding to 60 ECTS,
currently be enrolled at one of our partner universities,
be nominated by one of our partner universities for exchange studies at DSV and
meet the specific requirements for each selected course.
Language requirements
Students whose native language is not English must provide evidence that their English language proficiency meets the minimum requirements for admission from one of the language proficiency tests listed below.
For exchange students minimum B2 according to CEFR or CEF or CEFR.
IELTS: 6.5 overall (no section below 5.5 in the Academic Module).
TOEFL: PBT 575 (with minimum score 4.5 in the written test).
IBT 90 (with minimum score 20 in the written test).
University of Cambridge and Oxford: Certificate advanced English or Diploma of English Studies. Note that student from Nordic countries do not need to take a test.
Course information
DSV course catalogue
The list of eligible courses for exchange students will be updated in May and October.
Eligible courses autumn (dsv.su.se/exchangeautumn)
Eligible courses spring (dsv.su.se/exchangespring)
Course requirements
Exchange students must choose a minimum of two courses of 7.5 ECTS each at DSV to be able to study at other department/s or to take distance course/s. Please note that most courses have special eligibility requirements that students must fulfil. If the requirements are not fulfilled for a course, the selected course must be changed.
Schedule/course information
DSV courses and time tables (dsv.su.se/courses)
Stockholm University Course Catalogue (su.se/coursecatalogue)
Swedish language course
Swedish language courses on different levels are offered for free by the Department of Swedish Language and Multilingualism to all incoming exchange students (su.se/svefler/english/)
Information about language courses is given during the Orientation/Welcome Day.
Transcript of record
Stockholm University uses the digital student database where the student can find grades and courses, different certificates, such as registration or transcript of records: Ladok (student.ladok.se). Here the student can tailor transcripts according to his/her needs. Each transcript is provided with a validation code. Only courses with a passing grade will appear on the transcript if the student has completed all parts of the course.
Additional student resources
Handbook for exchange students (su.se/studyhandbook)
Visa
Note that EU citizens or citizens from countries outside the EU within a mobility program such as Erasmus+, provided that they else meet the requirements, do not need to apply for visa to exchange study in Sweden.
Visa applications is done via Swedish Migration Agency (migrationsverket.se)
Insurance
Student insurance (kammarkollegiet.se)
Cost of living
Cost of living in Sweden (studyinsweden.se)
Find your way
Campus Kista (dsv.su.se/en/find)
Campus Frescati (su.se/english/about)
Campus map of Campus Frescati (su.se/english/about)