A pleasant student environment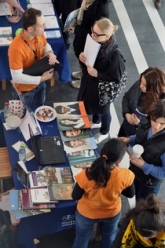 It is important that you enjoy your student environment to get most out of your time as a student!
As a student you have the opportunity to improve the work environment. The Discrimination Act in the working environment law promotes that student have the same equal rights as employees working at the University.
To study with disabilities
Students with disabilities shall as far as possible have the same opportunities and conditions to study as any other student at DSV. Therefore Stockholm University has various forms of support and help for you.
Please contact us at studentstod@dsv.su.se in advance to allow us to serve you the best way we can.
Read more about availability and all about studying with disabilities
Student Health Service
As a student at Stockholm University you are able to contact the Student Health Service if you have any medical or mental health problems or any question that may affect your study situation. The Student Health Service has a reception at the main campus Frescati and at the Studentpalatset next to Odenplan. All visits are free of charge. DSV also have several resource persons who are available to give support in case of emergency.