Managing and creating systems that will change the world
"My interest in computer systems started with a re-programming of the Packman game long ago. After that I came to realize the unusual potential of computer and systems science.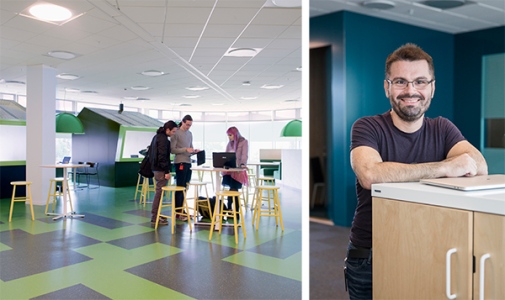 Artificial intelligence is something that is close to my heart, systems that teach themselves to improve and develop. Among other things, I have worked with self-learning systems that observe potential deviating behaviour at airports.
I have been teaching for about 10 years. I want my teaching to be like an action film, starting with a real bang, to capture interest. Then I try to get an example from reality, so that the students have something to relate to. To complete the studies at DSV, you do not need an advanced mathematical background. The most important thing is that you are ready to fight, are a bit stubborn and of course passionate.
Data collection and analysis can be used in almost all areas. For example, analysing different health records can predict when certain groups will have a heart failure. Data is also used, as everyone knows, on airplanes to quickly give the pilots information about things that need to be adjusted.
The purpose of data and system science is helping us humans to have a better life. You will learn methods, techniques and systems to analyse complex data sets that help individuals, companies and countries to make tactical decisions. Data and system science is not about replacing man but balancing the human intuition with hard facts.
The job opportunities after completion of studies at DSV are very good. Data is everywhere around us and the need for someone who can collect and analyse it is high in demand."
Panagiotis Papapetrou, professor in computer and system science at DSV.
This text is a translation from Swedish