"IT-news today is old history in two weeks"
Viktoria Wallbäck studies computer and systems sciences. Her first aim is a Bachelor's degree, after that she is interested in continuing with a Master's programme.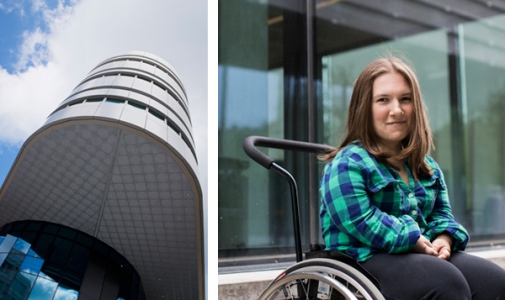 "Computer and system sciences, that's a broad subject with great choices. For example, you can specialize in programming or, if you prefer, in developing user-friendly services. Before I started studying computer and systems sciences, I went to the Open House at the university and got more information, something I recommend for everyone.
The learning curve is like a steady stair climb where you constantly see new horizons. You do not need any prerequisites to follow the program, but you have to spend a lot of your time - all under your own responsibility. We also do a lot of group work and I personally appreciate that very much.
What's also interesting is psychology, which is a major part of almost everything we do. For example, computer programs must be designed so that the user quickly understands how they work. There are very few who actually read a manual. Recently an interesting guest lecturer came and talked about IT security. After I listened to him, I felt I would like to learn more about it. Generally we have little knowledge about the IT risks in Sweden, particularly in the field of virus control. What is news today can be old history within two weeks. Now that I've seen how easy it is to find out everything about people, I'm extra careful when I'm on the Internet.
Today's society is very dependent on digital services so it is easy to find work after completion of this education. Recruiters actually come here and try to employ students already after the first year. But I intend to finish my studies before I start my working life. At the moment, my aim for the futures is to become a security consultant at a major company in Sweden."
Viktoria Wallbäck, Bachelor student in Computer and Systems Sciences at DSV.
This text is a translation from Swedish