DAC welcomes you to the interactive art exhibition: Bio-tones on March 8
Bio-tones is an interactive art exhibition by artist and researcher Vygandas Simbelis.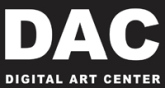 As part of 'Bio-tones' we welcome you to experience the bio-sonic art performance Metaphone: an interactive art piece that transforms bio-sensor data extracted from participants of this unique performance into colorful, evocative perceivable visual patterns on a big canvas. Metaphone features a sound performance by Anders Lundström.
In addition to the exhibition DAC will also be showing documentation of Art Machines by artists from around the world, presented by DAC guest-curator Frida Wikström.
When: Friday 8th of March from 15.00 until 20.00 Performance will be at 18.00.
Where: Digital Art Center, Kronborgsgränd 13, Ärvinge, Kista
Website www.digitalartcenter.se
Project partners: Royal Institute of Technology, Mobile Life Centre and Digital Art Center at DSV Stockholm University