E-government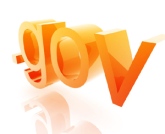 The reform of government administration and the provision of improved services to citizens have long been acknowledged as a major criterion for development and today's drive towards improved service delivery in many parts of the world can be considered part of this wider developmental goal. Although the term e-government or e-governance is primarily used to refer to the usage of IT to improve administrative or policy efficiency, it is argued to produce other effects that would give rise to increased transparency and accountability of government processes, improve trust which reflects on the relationship between government and citizens and help build new spaces for citizens to participate in their overall development.
In our profile area E-government the future of inclusive governance and citizen service delivery is being reflected – not just in theory but also in practice. We apply an unconventional research framework and methods to visualise the impact of ICT on government transformation towards services, inclusion, transparency, efficiency and change management.
Our free thinking staff of engineers, anthropologists, designers, academics and practitioners are engaged in projects ranging from open data and associated government apps, policy and decision support systems, argument visualisation, geospatial information systems, cloud computing, identity management and security, semantics, technology enhanced learning, mobile inclusiveness to change management as well as projects that aim at building the future of governance and government service delivery. Our unique culture of 'learning by doing' enables us to design and invent new possibilities for inclusive and democratic future communities.
Last updated: March 13, 2013
Source: e-gov Lab