ICT for Development, ICT4D
To strengthen democratic processes and improve the quality of lifes.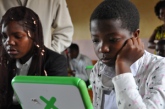 This profile area brings structure and focus for the many projects now spread across different units within DSV. It is a way of mobilizing our efforts in ICT4D more strategically. It will make our activities more visible and facilitate the systematic build-up of long-term international partnerships. Also, the world has changed. Now the IT-infrastructure has reached a complete new level worldwide, and when hardware is there, let´s make use of it!
There has been a long tradition of ICT4D-related projects at DSV. DSV is also host to the Spider center, which has a vast international network. We will coordinate current research activities at DSV and create a community of researchers in this field. The ICT4D activities are today mutual in the sense that research, services and products developed "here" could be utilized "there" and vice versa. It is no longer a top down or one-sided approach in development projects.