"Now I have a theoretical base to drive my commitment"
So says senior lecturer Patrik Hernwall. He could have been a pre-school teacher as he had planned. Instead, he is a DSV researcher in technology enhanced learning. He is passionate about children's development and hopes for a school that will take advantage of children's desire to learn through the new media.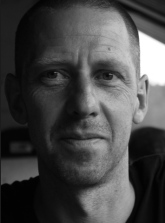 Patrik Hernwall is a senior lecturer and came to DSV 2010, but has been running two research projects at Södertörn University until now. It is something of a coincidence that he became a researcher. His interest in the development of children brought him in to a teaching career, and he took a pre-school teacher exam in 1989 at the university college in Karlstad.
"I came to Stockholm in 1990 to work for a few years as a preschool teacher before I was to go back home to the West Coast. I also began to study an evening course of pedagogy at Stockholm University," says Patrik.
And on that way he continued. It eventually became a bachelor essay at the Department of Education in 1993 in which he had interviewed primary school children about their perceptions of computers. After the master's essay and teaching assistant position at the same department, he received an attractive offer for a PhD position a few years later.
"If I look back, I've always been interested in children and their encounter with popular culture. It is not primarily the media itself that interest me, but the conditions of children and their cultural expressions in digital media," says Patrick.
New media in schools
Patrick says that it sometimes seems as if pedagogy seeks to protect children from the new media world. Instead, he wants to highlight and exploit children's media use. Children are spontaneous in what they do and what they are doing must be important to them. When he started his doctoral studies actively the new media were in focus: In 1996, more and more people got email, and the Internet became widely available. When these opportunities came, the kids created their own arenas. And this has to be given room in the school's work, argues Patrick.
"So much has changed, but very little has happened. It is striking how many school leaders wrestle with the questions of where we are going - and who at the same time don't know what the digital media can be used for," emphasizes Patrick.
Patrick has worked with evaluations of schools' media initiatives and studied the implementation and evaluated its effects. He notes that the expectations are always high on the changes and on tangible results - preferably in the form of higher grades.
"It is more effective, but not always in the way intended. It is important to measure the results in other ways and not solely look at the grades, explains Patrick.
Patrick has many discussions with teachers about pedagogy and teaching, and says that he sometimes tries to provoke to get results and the will to change. He wants to discuss issues such as what we teach, what skills are important and how we "measure" skills. There is much left to do says Patrik, and will require a different approach.
"The school is the environment for all Swedish children during10 years. We need to think "our children" and not "our pupils." Schools need to see the kids - individuals - to take advantage of their desire to learn," Patrik points out.
Meetings between researchers and teachers
Children come to school with other thoughts than teachers have. They can often read and write, and are used to communicate through media and to navigate to find information. Children want to be able to tell what they know, but the school only measure what they know according to convention. Patrick is convinced that the researchers could contribute to new ways of thinking.
"I want to find ways to get meetings between researchers and practitioners. Teachers often would like to, but there is very little time for such meetings - not always for the researchers either," says Patrick.
According to Patrik is it a problem that the Minister of Education does not seem interested in the issues concerning digital media. There also often is a lack of digital competencies within the municipalities that have the main responsibility for the schools. Now Patrik works with an application to the Research Council for a project relating to the development of digital competence in new and innovative school environments.
"My job is not to change the Swedish school system. But I know that we as researchers have much to contribute. I see great value in partnerships with teachers and students, preferably in the form of action research," Patrik points out.
Social media and gender issues
Another theme in Patrik's research is young people, social media, and gender. The completed GTO project studies how gender is created and expressed in online environments among young people. He has taken an interest in what this means for young people and what tools they use. Patrick says that new media has hardly meant greater freedom for more individual expression through the new media.
"It is a utopian idea that you can be whoever you want. The power structures are the same as before - and to some extent, it may even become worse. The media construct norms and value patterns that are tangible, pervasive and global. Value patterns can be perceived as almost aggressive in their appearance," says Patrick.
The future
Patrik collaborate with Chiara Rossitto and Jonas Collin in projects around the "distancefication" of higher education with a clear focus on the pedagogy in teaching to bring in new ideas about quality in DSV's own operations. He also discusses the possibility of collaboration with the Swedish Educational Broadcasting Company. He also hopes to get funding from the Swedish Research Council for his project on digital competence in schools. Furthermore he is part the Principals Academy as a way to work more actively with the so-called "third task", i.e. cooperation with the outside society.
But as always, the question of the conditions for children's development is nearest to his the heart.
"I tried for a long to stay away from the school, but I've always been interested in children and their development. Now, I have also a theoretical basis to drive this commitment," Patrik concludes.
Links
The Principals Academy (in Swedish)
Completed projects (in Swedish)
Konstruktion av genus online bland unga i Estland och Sverige, the.GTO.project
Ungas multimodala gestaltning – hur digitala medier kan användas för uttryck och reflektion, UNGMODs