Design for learning, DEL
Formerly called Technology Enhanced Learning (TEL)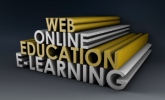 At DSV, research on Design for learning has been conducted since the beginning of the 1970ies. Scope and focus of interest has varied over the years but taken together, the research conducted has formed a critical mass of competence at DSV in this research area. Design for learning has also been named a candidate for selection as a leading research area at Stockholm University.
At DSV we have a unique combination of psychological, pedagogical and technical expertise, which together with our research focus on Design for learning has led to a number of very interesting projects. The research conducted is internationally recognized and stretches from psychological/pedagogic studies, over mobile learning, to simulation solutions with virtual actors. Systems developed by DSV researchers have won international prices and are used at leading universities all over the world. The majority of the research in the area is performed by the IDEAL unit at DSV.
Our expertise constitutes a firm ground for conducting research of highest international and competitive standard. Results from research conducted have over the years resulted in a considerable and impressive theoretical and methodological expertise in the area, including a high number of scientific publications. We are also active in a number of national and international research projects, incl. EU projects.