Love Ekenberg: Making wise decisions
Mathematics, philosophy and theology - professor Love Ekenberg admits that he has followed a winding path to his current post as professor at the department of Computer and Systems Sciences (DSV). His many occupations and multifarious interests are also apparent in what he does today.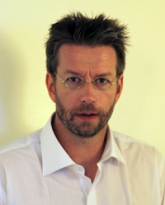 Love Ekenberg almost didn't continue into higher education. He quit school to start earning a living, but realised after a while that it would be more interesting to study after all. He gradually began studying mathematics and logic, philosophy and theology before arriving by chance at DSV in 1990 via a prolog course."I started off as a maths nerd," Love says somewhat ironically. But I thought DSV seemed much more interesting and friendlier. People here spoke to one another and there were people of both genders.
Decision theory
So he stayed put and eventually presented the results of his research into decision theory. It involves reaching smart decisions using an algorithmic approach. Algorithms are used to analyse complex problems. The various aspects of a problem have to be modeled and quantified to support the decision-making process. In other words, to determine optimal decision-making procedures.Love points out that "Intuition is a ridiculous instrument for risk analysis and making complex decisions. Yet in spite of this, decision-making processes in organisations today are often based on intuition and assumption. This is where the decision analysis comes in. It is about evaluating different alternatives to avoid unnecessary risks through a structured decision-making process.
Love works with professor Mats Danielsson on designing decision-making models and having worked together since 1992 they know one another well. They look at the mathematics of such models, in terms of conceptualisation and algorithms. Together with a few others, they run a company, Preference, which is also owned by Stockholm University's holding company.
Love explains, "It is good for us academics to have to think about how research findings should be communicated. It stimulates activities – you see it in a larger perspective. Personally, however, I am totally incapable of selling our work so we have other people doing that."
IT and learning
Love is also interested in matters concerning IT and learning.
"New learning age requires new media practices that are so far underexploited. School structures and teacher role structures are so rigid. In the new learning age we most definitely need new teacher roles.
The Department of Computer and Systems Sciences is currently engaged in various projects that fall within the parameters of IT & learning. The Department's activities also include a partnership with the Department of Education and the Department of Didactics and Educational Work at Stockholm University.
Love tells us, "I am also working alongside Johan Torbiörnson at the Resource Centre for Web-based teaching. I've known Johan very well for almost 40 years. I now consider it extremely important to work collaboratively with our local community - i.e. Kista. In partnership with Kista's district board and local schools, I want to get the department involved in integration issues with a special focus on immigrant women and young people."
Although Love expresses the need to develop local working relationships, he is very aware of the outside world. A number of international research and education projects have been conducted over the past decade both inside and outside the parameters of DSV and the SPIDER centre. He has been working with development cooperation for 15 tears in a multitude of countries in projects for – for example the World Bank, Sida, WHO, and others.
"It is interesting to see how the national and international perspectives are becoming more and more interlinked," Love explains. "I have worked as a visiting professor in Mozambique, Rio de Janeiro and in Belém and I am still working on research projects with them. One area of interest in Brazil is how to create a good "energy portfolio" for the community so that everyone is assured a fair distribution of energy at affordable rates.
In many places where resources are scant it is important that everyone has reasonable access to energy. This kind of question can also be applied on a global level where there is not such a state of shortage." One example that Love elucidates is how it is possible to achieve price stability and an optimum balance between supply and price in the energy market - something that the Swedish deregulation of the electricity market does not seem able to achieve.
Issues of democracy
Issues of democracy engage Love a lot. His research into decision-making really comes to good use in this particular area. He receives research funds from the Swedish Research Council "Formas".
"I like democracy, justice and freedom," Love says emphatically. "I don't just want to be a witness - I want to be part of the global process. I'm interested in how we can solve the issue of distributed democracy. And what the consequences will be if we DON'T have democracy in any plausible sense."
The decision-making models which have been used in a number of municipal projects (previously in Nacka, Örebro, and now Upplands Väsby, Gaborone, Hudiksvall and Stockholm) have made it obvious for people to be able to analyse the consequences of their decisions.
One striking example of what happens when a problem is not properly analysed is the Stockholm Bypass that his team have examined more closely.
"In this case, there were three proposals for bypass routes. Out of interest, we asked our decision-theory students to analyse the effects of weighting various aspects/criteria that should be taken into consideration in the decision-making process," Love explains. It was blatantly obvious to them as well that you could produce any kind of result depending on how the weighting was done.
"This is not reported anywhere in the National Road Administration's assessment documentation," Love points out. Nevertheless, Stockholm's County Administrative Board has approved this on very vague grounds. The construction costs are an estimated SEK 17-32 billion, so that's quite a bit of money to be concerned about.
"But what's really worrying is that this is not a one-off case. You'd think that authorities would take expensive and complex decisions far more seriously and actually apply methods and tools that are available."
The future
Love holds a number of positions at DSV. He is a head of department, and he'll probably stay in the academic world a while longer.
In a serious tone, Love says, "I can't become a fighter pilot at my age. The older you get, the less likely you are to change career - so I grew a ponytail instead, that will have to be an acceptable substitute. But being a professor is astoundingly convenient and offers tremendous scope to shape the job as you want. And people in general tend to believe practically everything you say In fact it's not a difficult job at all."
And those are the words of a man who declares himself highly satisfied with his life.
Personal facts
49 years old
Wife from Brazil
Five children
Likes martial arts

Personal webpage
Att fatta kloka beslut The interview in English