Geoffrey Rwezaura Karokola: A framework for more secure e-gov services in Tanzania
Many countries are moving fast into to the "IT world" without considering the ramifications of different systems. Governments are keen to offer citizens new e-government service and sometimes the security aspects are not considered from the start. This is especially true in many developing countries where the IT maturity is low. A newly presented doctoral thesis is addressing the security aspects of e-government services.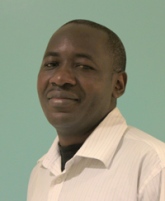 e-Government services are guided and benchmarked by implementation models referred to as e-Government maturity models (eGMMs). The problem is that these models lack built-in security services, technical as well as non-technical. They measure quantity rather than quality of e-government services which leads to lack of strategic objectives alignment between e-government services and security services. These are the problems addressed in a new thesis presented by Geoffrey Rwezaura Karokola from Tanzania.
"Tanzania is rushing into the IT world – a life full of risks. That is why I was going into security. The private sector has set some security standards, whereas e-government offerings are not always secured," Geoffrey explains.
Geoffrey points out that there is a lack of awareness about the risks among users and the systems are not always adequately protected; there have been incidents for example in money transfer.
"I was very surprised when I realized that the eGMMs models didn't include security aspects. Security is not considered from the beginning, in many cases it comes later," Geoffrey underlines. "So I wanted to develop a model that includes security from the beginning.
So the thesis proposes a framework that would facilitate government organizations to effectively offer appropriate secure e-government. To achieve this goal, empirical investigations were conducted in Tanzania involving six government organizations with different needs.
"The framework will facilitate government organisations to effectively offer appropriate secure e-Government services; hence contributing into formation of citizens' trust, and consequently the success of e-government initiatives," Geoffrey says.
The model is qualitatively evaluated using criteria, such as simplicity, coverage and completeness, compliance to security standards, usefulness, and trustworthiness. The evaluation results indicate that the framework was highly accepted in the studied organisations at all levels-
"Of course the framework must be tested in practice as well, and we need to hurry because in ten years most services will be automated," Geoffrey stresses.
Professor Louise Yngström has been Geoffrey's main supervisor. In addition, Professor Stewart Kowalski has been the co-supervisor since the licentiate research. Geoffrey is the fifth of the University of Dar-es-Saalam's PhD students at DSV with a security focus. Two former colleagues are today Deans of their faculties, one is university lecturer and one is head of Tanzania's e-Government Agency establishment.
"As a supervisor, I am proud that many of our students from Tanzania are interested in security issues relevant to major societal infrastructures. This means that there is good knowledge both in their society and at the universities that can contribute to a more secure e-society, Louise Yngström stresses.And Geoffrey is very happy with Louise Yngström as his supervisor.
"She visited Tanzania twice, and I was impressed with her expertise. That attracted me to the programme. She is so encouraging for students," Geoffrey concludes.
Facts
Geoffrey Karokola received his Bachelor of Science degree in engi¬neering from the University of Dar es Salaam (Tanzania) in 1998. Then he pursued his postgraduate studies at Delft University of Technology (TU-Delft) in the Netherlands and the University of Dar-es-Salaam in 2002 and 2006 respectively. In 2008 he was accepted as a PhD student in Computer and systems sciences at the Stockholm University as part of the Sida/SAREC programme; where in 2010 he received his Licentiate of philosophy degree (PhLic) specializing in Information Security and e-government. Geoffrey is an employee of the University of Dar-es-Salaam in Tanzania.

Sida/SAREC was originally set up for research cooperation to strengthen research capacity through research training using the so-called sandwich mode. The students spend time at Swedish Universities for coursework, analysis and writing, while the empirical research is formulated with a local perspective and with data collected from the local context
The thesis was defended on Tuesday December 11, 2012
Links

Abstract (128 Kb) in English (.pdf file)

Sammandrag (190 Kb) på svenska (.pdf-fil)