Internet of Things Day
On February 9 the first big Swedish conference on the new hot area of Internet of Things will take place in Kista. The conference has created great interest, and more than 300 people were registered even before the final program was published.

The SICS Internet of Things Day is arranged in collaboration with EIT ICT Labs, Wisenet, KTH and Stockholm University (Mobile Life Centre at DSV). Among the speakers are Professor Kristina Höök and Professor Oskar Juhlin from Mobile Life Centre.
SICS is creating a centre for Internet of Things with consumer focus in collaboration with Ericsson, Microsoft, KTH, Mobile Life Centre, Stockholm University, Wisenet, Swedish ICT and a number of small companies including Company P, Ant Micro, and Vendolocus.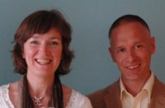 Prof. Kristina Höök and Prof. Oskar Juhlin, Mobile Life Centre