Paula Uimonen: "Everything falls into place"
So says Paula Uimonen, new director of the Spider since one year. In this role she will benefit from all her knowledge and experience. This past year the Centre has undergone a radical renewal, and they are now ready to show off Spider 2.0 - with a clear focus in their development projects and a clearer link to research. It is not only a question of directly contributing to development through projects, but also to contribute to more general ICT4D knowledge through research.
Paula is no longer director of Spider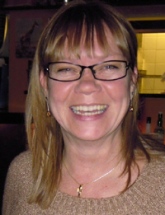 Paula Uimonen began as director of the Spider centre 1 January 2011. She has extensive experience in the field of ICT4D - ICT for development. She is a researcher and has worked as an advisor and consultant to Sida, UN agencies and directly in developing countries. She is a social anthropologist and wrote the first thesis in "digital anthropology" in Sweden. Her research is about people socializing on the net - most recently in Tanzania. Her assignments have included the formulation of national and organizational IT policies and strategies on how IT should be integrated into the culture and education.
"This is the only job in Sweden where I can utilize all my work experience," emphasize Paula. "Everything falls into place - here I get to work with both development and research."
Spider 2.0
Paula Uimonen was an advisor at Sida when Spider was launched in 2004, and she knows what hopes Sida had when the centre started. Spider is supposed to be an important part of the Swedish efforts in ICT4D area, and Paula is clearly inspired to be involved in managing this activity.
Paula's first year at Spider has been characterized by radical changes - it is really a kind of new start for the centre both in terms of direction and organization of the business. All previous projects have now been concluded, and all project officers are now at PhD level. It's fresh new time in "Spider 2.0".
"During this year we launched no less than thirteen new projects," says Paula. "We have also cut back the allocations to 500,000 SEK per project. As we work closely with local partners in developing countries the money goes surprisingly far."
An important part of the "new" Spider is to increase the proportion of research on ICT4D. Now Spider works intensely to connect research to the new projects. Spider helps with research grants, and may also offer master's students support in the form of e.g. travel grants. Paula hopes that the Spider will be a kind of "ICT4D Broker" and contribute new knowledge.
"We will grow in our research. We have no specific research programme, currently the research is connected to the projects. But our ambition is to conduct and sponsor more research through external funding," says Paula.
ICT4D is still a new area in development cooperation, and in view of limited resources in developing countries, it is important that new technology used in the best possible way. Research can contribute to knowledge-based interventions, and thus give better results.
Networking
Spider has now renewed funding from Sida - about 45 million for about three years. About 5 millions is earmarked for research and evaluation. An important part of the activities at Spider will be to build networks. Spider now has 18 partner universities in Sweden and has identified nearly 80 or so researchers in ICT4D area. Now they are going to build networks internationally.
"The new Spider seminars are a great way to spread knowledge in the network," explains Paula. "The seminars are sent via webcast and the material is then available afterwards on the Web."
The first ICT4D Seminars took place in December and the spring series is planned - see below.
Facts Spider
The Swedish Program for ICT in Developing Regions (SPIDER) is a resource center for ICT4D (ICT for Development). Spider was established 2004 and with Sida as the main funder.
Spider will function as a node in a network of academic, government and industry. Spider will convey contacts, knowledge and expertise in close collaboration with partners in the partner countries.
Focus areas: democracy, education and health.