Space and Spectacle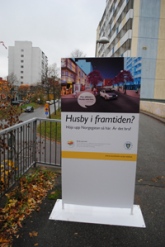 Space and Spectacle is an art project consisting of temporary artworks at various locations in Husby. Space and Spectacle is part of a joint exploration in which we are investigating the city as a stage and the function of public space by means of various artistic interventions and the suburb of Husby. Royal Institute of Art in collaboration with Centrum för Gestaltning.
The political and economic processes currently taking place in Husby give us an example of the complexity of this process. How can we act in public space and what consequences follow from regarding public space subjectively and reflexively? Can the spectacle become a critical praxis and an artistic method in producing public space?
Space and Spectacle is part of a course at the Royal Institute of Art in Stockholm entitled Research, Space and Spectacle organized by artists Johanna Gustafsson Fürst and Åsa Andersson Broms. The course deals with political and artistic discourses and strategies pertaining to public space and urban planning, as well as sociological, architectural and artistic research.
Artists
Patricia Aramburu, Anna Hesselgren, Ingrid Jansson, Vygandas Simbelis, Shida Shahabi, Siri Tolander, Greta Weibull, Daniel Wiklund
During Space and Spectacle it will be possible to experience Vygandas Simbelis contribution which takes its point of departure from the history of Järvafältet as a battle-training ground for the Swedish armed forces, as well as the body's position in space which has led to a process of digging trenches close to the training area. Shida Shahabi's Requiem, which is based on sound recordings made while surveying Järvafältet, will be performed live on a temporary stage. Siri Tolander will open her home for a period, turning it into a semi-public space in which the interior mirrors questions of representation and private space. From jointly produced kaleidoscopic material Daniel Wiklund materialise a social space. Anna Hesselgren analyses the function of the interspaces in Husby using large mirrors and casts of the exteriors of buildings. Greta Weibull's contribution consists of a slow progress under the bridges in Husby – the Venice of the north – together with a speech on Husby square; from society to society unfiltered. Ingrid Jansson considers the absurdity and anonymity of public furnishings by means of interventions along the paths linking Järvafältet with Husby and Akalla. During Patricia Aramburu's jogging tours across Järvafältet she leaves traces behind her consisting of messages and thoughts that encourage new patterns of movement and the right to influence one's surroundings.

Research, Space and Spectacle is a research project that started in September 2011 at the Royal Institute of Art in Stockholm in collaboration with Centrum för Gestaltning www.centrumforgestaltning.org Performing Structures is a research project undertaken by artist Karin Hansson. It will be presented at Husby Konsthall in August 2012. Further information at http://performingstructure.se/

More information about Research, Space and Spectacle is available at http://researchspacespectacle.se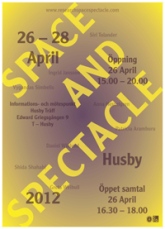 Royal Institute of Art in collaboration with Centrum för Gestaltning www.centrumforgestaltning.org
26–28 April 2012 at Husby in Stockholm.
Opening: Thursday 26 April, 3pm-8pm. Open discussion on Thursday from 4.30pm to 6pm.
Showings: Friday 27/4-Saturday 28/4 11am-5pm.
Location: Husby Träff, Edward Griegsgången 9, T-bana Husby.
Read more