New thesis: Better e-business
ICT has become an integral part of many businesses. As such many business organisations are looking for electronic means of offering resources to their customers. So far the development of e-business solutions has largely focused on technical aspects rather than business aspects. However, in competitive business environments, e-business solutions such as e-services that are not aligned with business strategies may not economically viable. This is where a new doctoral thesis can help. It will give companies a framework to analyze their business and tailor their e-business designs to suit their business strategies.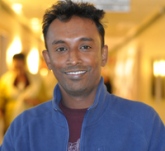 The thesis "Improving E-business design through Business Model Analysis" by Tharaka Ilayperuma examines how business modelling can be used to improve e-business design. It examines how business stakeholder intentions and different objectives of business collaborations can be used in e-business modelling. The thesis proposes a set of artefacts for business modelling and e-service design.
"We wanted to bring more aspects to the business modelling such as consumer values, because we think that an explorative business model will result in higher consumer satisfaction," Tharaka explains.
The business model design methods proposed in the thesis considers both internal aspects such as strategic intentions of actors and external aspects such as business collaborations. Considering strategic intentions of business stakeholders, it first proposes a method to design business models based on goal models. At this end, a set of templates for designing goal models and a set of transformation rules to obtain business models based on goal models are proposed. Considering, business collaborations, the thesis proposes a way to improve business models. The method includes a classification of business transactions that reflects underlying business objectives of business collaborations. Finally, the thesis also proposes a method for designing e-services based on business models.
The methods can support business modellers as well as e-business designers. The methods have been assessed through applications in two cases.
"This is still a research model even though it has been tested on two cases. An empirical validation will be required to fully evaluate its capabilities. We want to elaborate the model further in research, but I hope to involve industry people in this," Tharaka Ilayperuma says.
Tharaka is now back in his native Sri Lanka working at University of Ruhuna, Matara. But he continues to collaborate with his fellow researchers at DSV. In terms of research, Tharaka is very satisfied with his time in Sweden.
"My target has always been to be a good researcher. My stay in Sweden has provided me with a solid basis for that. My stay in Sweden also gave me an opportunity to work with leading researchers in this field", Tharaka Ilayperuma concludes.
Dissertation: December 8, 2010, 13.00
Plats: DSV, sal 401

Title of the thesis:
Improving E-business design through Business Model Analysis
Dissertation December 8 2010, 1 pm.