Digital Innovation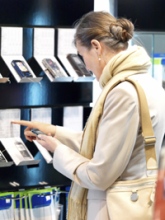 Improving innovation through digital technology
We study how digital technology is used to create new market offerings, processes, and models. Digital technology is different because of its unique properties that separates logic and form. These properties allow for innovation to become more open and to emphasize co-creation and re-combination.
Important sub-areas are:
Open Digital Innovation
In this sub area we study how organizations support open digital innovation. We refer to open digital innovation when we study "how organizations interact with external entities to co-create novel offerings through the recombination of digital resources. In our research we study the use of contests from planning to post-contest support as well as the design and mechanisms of corporate incubators to stimulate digital innovation, for example in established automotive companies.
Digital Innovation for Industry 4.0
Digital innovation enables transformation of how companies organize, and how entire industries may be disrupted and re-structured. The paradigm shifts towards Industry 4.0 poses challenges for companies. Industries start discovering, developing and adopting digital innovations into their business, which are expected to have profound impacts on business processes, products designs, and business models innovations.
Sustainable Digital Innovation
Currently, large investments from industry and the public sector are made to strengthen the innovation capacity and, with the help of digital technology, solve major social challenges, the so-called Global Goals (www.globalgoals.org). Therefore, design-oriented research as well as more traditional system science research are needed to conceptualize innovation and its importance to today's society and to design models and methods for sustainable digital innovation.