Paul Johannesson: "Progress is being driven by teenagers!"
Professor Paul Johannesson makes this comment about developments in the realm of information technology with a slight hint of irony. What he is referring to is the breakneck pace of developments in social media, such as Facebook, YouTube, Wikipedia, etc. This will have an impact on the development of business management systems in professional life too. Paul conducts research in all kinds of modelling – especially business management systems, with a specialist interest in information technology services.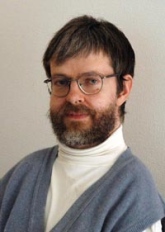 Paul Johannesson works at the Department of Computer and Systems Sciences where he works at the Information System Unit consisting of about fifteen researchers and some twenty doctoral students. Their research covers systems and technology as well as just about everything in between.
Mathematicians with a taste for services
Paul is a mathematician and he passed his doctoral thesis in computer science in 1993. He has been a professor since 2002 and his research focuses on information systems, modelling (especially in the field of business management and business management systems) and he is particularly interested in services.
Paul Johannesson explains, "There are two aspects in particular that I find of special interest. One is about how services could be made available to users without it being necessary for them to "own" the resources used by the service. And the other is about whether people actually get the services they require."
In order to illustrate the first case and the way Paul wants society to look upon services, he uses a comparison with transport services – we are transported without having to own a car. In the second case, and as far as scientists are concerned, it's about software development and applying knowledge about human-machine interaction. Instead of large, complex turnkey applications, it's about creating more, smaller building blocks that work together. And that's where the challenge lies for the researchers.
"I'm very interested in business management systems and how they meet the needs of companies. My research concentrates particularly on the composability of systems," Paul explains. It's no longer a question of creating one huge complex business management system for companies. It's about having a system with several different subcomponents that can be connected together as needed.
Paul is also very interested in e-services in the public sector. The SYSLAB research team is working on a number of projects related to medical and health care services. One of these was the REMS project which was very much about the optimal use of medical care resources.
"This project was enormously enjoyable. We developed an information system prototype that included all those in the Stockholm region who work with eye care. This system makes it possible to refer patients to the right level of eye care services and thereby relieve specialists of unnecessary workloads," Paul relates enthusiastically.
Another exciting e-service project is the fault management system for mobiles that Gustaf Juell-Skielse has built up for Upplands Väsby Local Authority. This is a unique system that allows local citizens to report faults and send in pictures from their mobile phones. Their reports are then entered into the Authority's fault management system.
The social web
Paul is also very interested in following the rapid development of Web 2.0, which is the use of the Internet for social networking. It's about a new generation of web services and business models on the web. The social web is based on interaction and cooperation. We have seen a whole host of social web services of this kind in recent years, such as Wikipedia and Facebook.
"Technological developments used to be driven by the military or major enterprises. These days it's teenagers who are pushing developments forward. And this whole way of creating information systems and services is spreading through the corporate world," Paul comments with a smile.
These developments started to appear five or six years ago and Paul has been following them as a user, not as a researcher, since then. However, these technologies are now starting to make inroads into his work as a researcher too.
"Previous generations' business management systems were quite hierarchical and controlling," Paul explains. "They could easily become something of a strait jacket. But with a Web 2.0 approach, these systems can become much more flexible and work better for the user."
Paul is convinced that the Web 2.0 approach is entering organisations and he has submitted a proposal for a research project into this area. In addition, he has initiated contacts to get companies to participate. It is very common for SYSLAB's scientists to work collaboratively with companies, since the team's research activities are closely linked with commercial applications. It is almost as common for companies to contact the research team as it is for the researchers to initiate a contact.
Paul says, "Companies don't usually approach us if they already have a concrete idea or model. One company that did come to us was Affecto, which had developed a new idea for database modelling and needed help in presenting its model in an "academic way". We were able to elucidate its basic ideas and make them more generalizable."
These joint projects with companies are often small-scale projects that don't generate any revenues. They are often supported by research funding from, for instance, VINNOVA (the Swedish Government Agency for Innovation Systems that administers funding for R&D) and the companies contribute with their time. According to Paul, there are lots of excellent ideas for services and applications in the business world and the role of the researchers often involves finding ways to generalize these ideas and disseminate the knowledge.
Developments around the corner
Paul's eagerness to learn what is around the corner in our information technology world is obvious. His research is also so closely linked to commercial application that it takes place more or less simultaneously with the changes and also has a direct impact on developments through the close collaborative relationships with companies. But what about regrowth in the area?
Paul comments, "There is huge interest in our undergraduate programmes. We offer Computer and Systems Sciences courses at Stockholm University. However, many of our students are aiming to step into professional positions after graduation."
But it's not unusual for graduates to return after a few years in the working world to conduct PhD research projects that are funded by industry. And at the moment there are many very capable researchers in the "mid-generation" as Paul terms it. It's quite obvious that Paul Johannesson looks upon the future with confidence.

Interview 2009

Facts about Paul
50 years old
Mathematician
Doctoral Degree in Computer Science from Stockholm University in 1993

Leisure books, theatre and, above all, computer games. His favourite game is World of Warcraft
Links
Interview 2009