A new phase for Vatten Fokus, the Swedish Demo Case of Ground Truth 2.0
The power of socio-technical projects aiming at creating social and environmental change.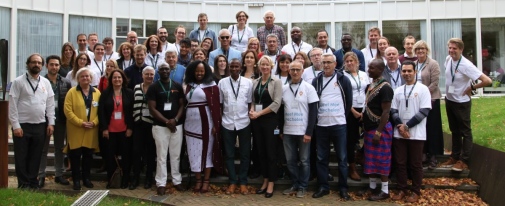 Center: eGovlab
Swedish Demo Case Leader: Silvina Tejada Skoglund, eGovlab - Stockholm University
Project Director: Uta Wehn de Montalvo, IHE Delft
We are looking back on a successful development of the Ground Truth 2.0 initiative and the Swedish demo case team would like to thank all stakeholders who participated in some or many of the activities organized since 2017. From the interactive and productive co-design workshops, which enabled the co-creation of Vatten Fokus (VF) to water-test campaigns designed to monitor the quality of water in the Stockholm area. VF is the first Swedish Citizen Observatory, which aims at supporting citizens, scientists and authorities to collaborate in the governance and action of the aquatic ecosystems by collecting data, sharing knowledge and making data accessible. The new generated information complements that which comes from established governmental initiatives. In addition, an agile co-participatory approach used in the testing phase, allowed shaping a final version of the system according to the needs of real users. However, the beauty of the initiative transcends a pure technical aspect. Instead, it is evident in its social nature and the hands-on activities it generated, such as Water Blitzes and regular water-test campaigns. VF allows local problems to be signaled, to be better monitored and allows corrective actions to take place.
These diverse events in Vatten Fokus have been fruitful and enabled dynamic discussions that materialized in the mobilization of two communities. Neighbors living in Flen are highly engaged and intrinsically motivated to preserve a good status of the water of the lakes and streams surrounding their residences. Water tests have been done on a regular basis, and current plans point towards the continuation of this activity, complementing it with other types of tests (water lab tests, fish tests, etc.). Hopes are big and plans evolve gradually.
As every project, Ground Truth 2.0 had a beginning and is reaching its final phase, for which it had a formal-informal review during the Ground Truth week in September 2019. Seven citizen observatories were displayed 'in action' and attracted engaged stakeholders from more than six countries. This assumes of course that we bring Ground Truth to a good end. However, this is just the beginning for Vatten Fokus. The Swedish citizen observatory is up and running, and attracted the interest of communities engaged in continuing testing the waters. They have been organizing meetings with nearby residents, water experts and water authorities and their plan includes contact relevant municipalities, local and regional authorities. This button-up movement is growing and has the potential to generate social and environmental change. However, it needs support. Support is crucial, specially coming from authorities, scientists and other citizens.
At Stockholm University and the Delft Institute for Water Education, IHE, we are busy finalizing reports that we will post on the Ground Truth website. If you are interested, please visit our websites and help spread these as soon as they are out.
Thank you all for your respective contributions, extra efforts and commitment to make this possible!
The Vatten Fokus team
& the entire Ground Truth family.
Curios? Please take a look at the video: 'Vatten Fokus: An overview of what we have done'
Vatten Fokus partners:
Stockholm University, eGovlab
This project has received funding from the European Union's Horizon 2020 Research and Innovation Programme under grant agreement No.689744.