Clinical Text Mining Group
We are a creative research group of computer scientists, engineers, computational linguists and physicians, that are performing research in both language technology and in health informatics, particulary we are trying to interpret clinical texts using both domain experts and machines. We are aiming to create the future tools for clinicians, tools at the cutting edge in computer science and computational linguisitics using Artificial Intelligence. Our research is based on data from the Stockholm EPR Corpus contained in Health Bank - Swedish Health Record Research Bank. Stockholm EPR Corpus encompasses more than two million patient records in Swedish from the years 2006-2014. We have developed a number of tools and created a set of lexical resources. For possible applications please read here (in Swedish).
We are involved in the following research projects:
Projects
Ongoing projects
Improving Prediction Models for Diagnosis and Prognosis of COVID-19 and Sepsis with Natural Language Pocessing of Clinical Text
HB Use - Health Bank de-identification tool and its practical use
DataLEASH: LEarning And SHaring under Privacy Constraints
VRI-proaktiv - Nya arbetssätt och IT-stöd för att bekämpa vårdrelaterade infektioner
Completed projects
NIASC-Nordic Center of Excellence in Health-Related eSciences
Center, funded by Nordforsk, Nordic Council of Ministers.
MINECAN - Data and text mining of cancer symptoms and comorbidities in electronic patient records in the Nordic languages, funded by NIASC-Nordforsk.
"Artificial Intelligence analyses the patient records. Is this possible and can that improve healthcare?" Book project
AVID - Avidentifiering för sekundär användning av patientjournaler (In English: De-identification for secondary use of patient records)
High-Performance Data Mining for Drug Effect Detection (in Swedish: Dataanalys för detektion av läkemedelseffekter, DADEL)
Automated translation of radiology reports into general Swedish – part of the democratization process in health care
De-puzzling Time: Improving information access from Swedish medical records by modeling temporal expressions
Detect-HAI - Detection of Hospital Acquired Infections through language technology
HIPPA-Hospital Intelligence for better patient security
(In Swedish: HIPPA-Hospital Intelligence för bättre patientsäkerhet)
Interlock: Stockholm - San Diego - Inter-Language collaboration in clinical NLP
Stockholm EPR Open- Öppna stängda journaler genom aggregerad klinisk information, för bättre hälsa.
(Releasing aggregated clinical information for Releasing aggregated clinical information for better research and health)
Visualisation of comorbidity network with Comorbidity-View
HEXAnord –HEalth teXt Analysis network in the Nordic and Baltic countries
Photo of group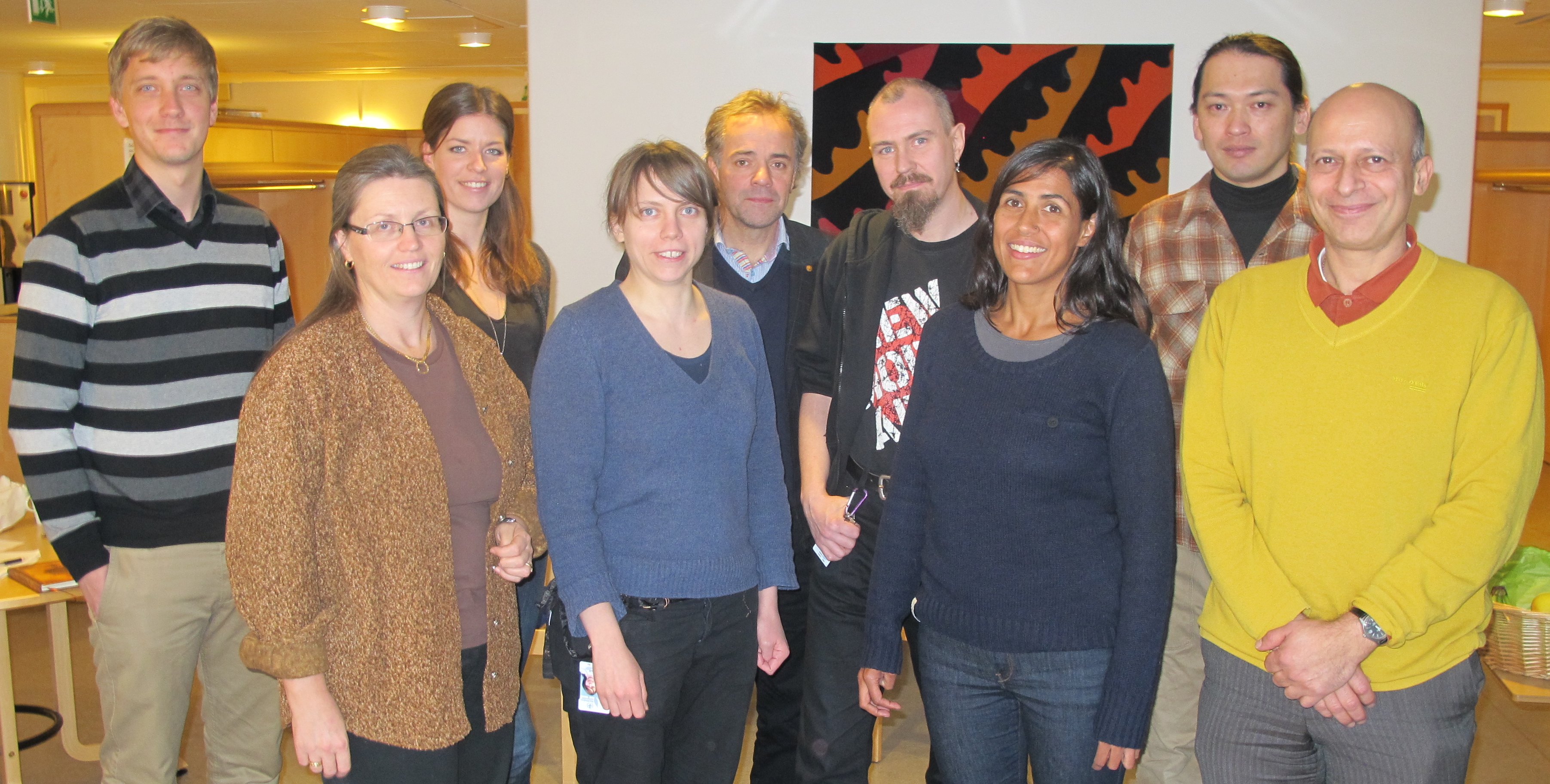 Aron, Sara, Gunnar, Martin, Hideyuki, Mia, Maria, Sumithra and Hercules
Group members
Former participants:
Helen Allvin
Andreas Amsenius
Maria Bampa, (now PhD student at Data Science, DSV)
Hanna Berg, research assistant
Mila Grancharova, research assistant
Sara Brissman
Elin Carlsson
Olof Jacobson
Mia Kvist, M.D., PhD
Gunnar Nilsson, M.D. Guest Professor
Alicia Peréz, PhD, visiting researcher
Maria Skeppstedt, PhD, Språkrådet - Institutet för språk och folkminnen.
Kelly Smith

Sumithra Velupillai, PhD, KTH postdoc at King's College, London, now at VR.

Mahbub Ul Alam, PhD student (now at SAS and IoT)
Master theses and reports
Sonja Remmer. 2021. Automatic Diagnosis Code Assignment with KB-BERT — ICD Classification Using Swedish Discharge Summaries, Master Thesis, Stockholm University,

pdf (1359 Kb) .
Synnøve Bråten. 2020. Extending a Synthetic Norwegian Clinical Corpus for De-Identification, Master Thesis, Stockholm University/Karolinska Institutet, pdf.
Niklas Isenius. 2012. Abbreviation detection in Swedish Medical Records, The Development of SCAN, a Swedish Clinical Abbreviation Normalizer, Master Thesis, Stockholm University, pdf.
Ludvig Falck and Omid Samadi. 2012. Compound splitting of Swedish medical words - An evaluation of the Compound Splitter software, Scientific course report, Stockholm University.

PDF
(647 Kb) .