Virtual Cases for Rehabilitation of men sentenced for domestic violence - RoD/IDAP
Research team: Uno Fors and others at DSV, Marianne Kristiansson, Kristina Sygel at the National Board of Forensic Medicine, and Roberto Furberg at Swedish Prison and Probation Service.
Financing: The project is financed via a number of different grants from i.a. Swedish Prison and Probation Service and National Board of Forensic Medicine, Sweden.
Project description
Despite Sweden being ranked one of the top nations, with regards to gender equality, a large study has shown that domestic violence is widespread, frequent, and current. The Swedish Prison and Probation Services (PPS) provide the Integrated Domestic Abuse Programme (IDAP) to men convicted of domestic violence. Based on cognitive behavioural therapy and social learning theory, its aims are to map the individual offenders' physical and psychological abusive behaviours and teach them constructive alternatives to violence.
The PPS have in cooperation with our group initiated a study to investigate the use and possible effects of an interactive, computer-based system to simulate domestic abuse scenarios and visualize possible ways to avoid violence.
The way in which 40 men convicted of domestic violence use the new computer simulation system is be compared with a control group of non-offenders. Out of the 40 offenders, 20 will have completed IDAP and 20 will not have taken part in any treatment program. The study aims to evaluate the use of the computer simulation system and also its possibility as a new treatment method. Methods include system logs and questions to the users, questionnaires, video-observations, follow up of probation records and interviews with spouses.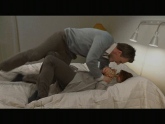 Links
Contact
Last updated: April 29, 2013
Source: Uno Fors