Mozambique context regarding ICT for higher education

In 2000, the government of Mozambique approved ICT policy and in 2002, t he impl ementation strategy, in which Education were one of the six priority areas that have been identified for the establishment of information society in the country. At that time, the government approved the strategy for innovation in science and technology in Mozambique that provides policy directives and strategies to encourage research, human resources development and knowledge transformation as part of national poverty reduction efforts.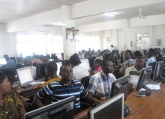 In ICT policy and its implementation strategies, higher education and research institutions play a major role to lead seeking and implementing solutions and methodologies. Fulfilling this will allow the expansion of ICT use for production processes, provision of services, improvement of teaching and learning, research, etc., in order to improve living conditions for Mozambican citizens (Republic of Mozambique, 2000). As a way to respond the government demand, several universities and research institutions are active in the areas e-learning, ICT skills development, e-government, e-health and training professionals in IT.
The text and pictures: by PhD student Xavier Justino Muianga
Supervisor: Associate Professor Henrik Hansson