Frontrunner Project - Mobile web apps developed for Kenya's world class runners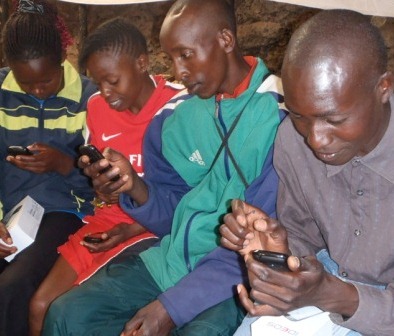 The primary idea with this project is to explore how smartphones that utilize native applications and mobile web applications can be used to enhance the quality of life and learning situation for underprivileged, aspiring runners in the Nairobi region of Kenya.
This project is based on the ideas and network of contacts developed by Per-Olof Hansson over years of living and working in the area. The key target group for this project is Running Relations running club in the Kiberia slum area of Nairobi. This group consists of 13-15 serious runners and 10 are participating in this study. A second target group is the group trained by professional Kenyan runner Macharia's group (opens in a new window). This group consists of numerous runners but 20 runners are included in this study. The total number of runners participating in the project is 30.
The project consists of 3 primary branches within ICT4D: mobile technology, learning and entrepreneurship and it takes place from November 2011 until November 2012.
Entrepreneurship: Slum Runs and Run with a Champ
This branch of the research is focused on exploring and developing money earning opportunities because the average runner is very poor and has no little skills or education to make a living, except running. Development will consist of mobile web apps as well as native Android apps. The idea with "slum runs" is that runners from developed countries that visit Nairobi can pay to go on runs in and around Nairobi, primarily in the Kibera slum area. A mobile web app at www.slumrun.com is under construction where tourists can learn about and book slum runs. The slumrun version is the focus for the running group in Kibera. The fee is currently 500 Kenya shillings (roughly 40 SEK) for 30 min. tour, 1000 Kenya shillings for 1 hour and 1500 Kenya shillings for 1hr 40 min. The concept for "Run with a Champ" is the same, i.e. that tourists get to run with elite runners in this case for a small fee. This concept is the focus of Macharia's group in Ngong Hills outside of Nairobi. The plan is to create a booking site similar to the Slum Run site that focuses on elite and semi-professional runners from abroad who want the opportunity to run with Kenyan elite runners. The smartphone with its GPS capabilities, Internet and e-mail access make these simple web apps accessible for the runners.
Learning: Formal and informal learning with a smartphone
The second area of research is how the smartphone affects learning for the runners. Informal learning takes place because the smartphone in and of itself exposes the runners to the Internet and everything it has to offer in a way they have not experience before. It is basically a mobile, handheld PC in their hands where any type of knowledge is suddenly within their reach. Another important aspect for the runners regarding informal learning deals with their training. The GPS function along with run tracking apps and access to apps and mobile web apps about training, nutrition, etc. is helping the participants to improve their training and be even better runners. Furthermore, formal learning in the form of courses will be set up in Moodle at DSV and the runners will use a mobile Android app to access and follow the courses. Once again the smartphone makes it possible for the runners to learn for free.
Mobile technology: Mobile web apps vs. native apps
The technical side of the research involves testing mobile web apps and native Android apps to see how well the function and perform. Throughout the different projects various versions of mobile web apps and native Android apps will be tested. The research problem to be solved is to determine whether mobile web apps are a viable substitute for native apps.
More information
For more information about the project, contact:
Henrik Hansson or William Jobe