Smartphones for Human Rights
The research project Mobile Online Learning for Human Rights offers an open online course on Human Rights to people in Kenya. Using a smartphone all interested students can access the free, online course. Interest has primarily been created using social media such as Facebook, Twitter and YouTube as well as some advertising on local TV stations and newspapers.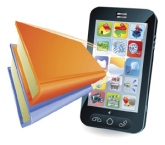 The primary idea with this project is to explore how smartphones using a mobile web application can enhance the quality of life and learning situation for Kenyan citizens.
"We provide a course in Human Rights through a mobile Moodle client. The idea is that the participants can learn about human rights and democracy for free via a smartphone," project leader William Jobe explains.
The name of the open course is Haki Zangu (the Kiswahili word for "My Rights"). This course can be accessed and studied freely by any Kenyan with access to a smartphone or other form of Internet connected device (e.g. tablet, PC etc.).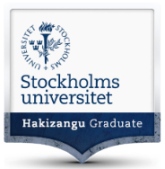 "The course intends to offer an open digital badge, which can be seen as a form of "digital diploma" so that Kenyan citizens have "proof" of studying the course. The participants also receive a certificate of completion as further proof of achievement," William tells.
The use of digital badges and certificates in this project researches the need for open and informal e-learning courses and educations to formalize achievement, i.e. formalizing informal learning.
Creating interest
The course started in November 2012 and has at present (February 2013) 157 people enrolled. Four have already finished the course. The project team has been using many ways to market the open course, including social media in Facebook and Twitter.
"A group of musicians in Kenya also created a very good music video to market the course. And we have had a couple of interviews on tv in Nairobi and also coverage in local newspapers," William says proudly.
Facts
Project team: PhD student William Jobe, DSV, Per-Olof Hansson, Linköping University and Kennedy Ogutu, lawyer in Nairobi
Funding: SPIDER
Related links
• Watch a video made on YouTube by Kenyan musicians
• Haki Zangu on Facebook
• Haki Zangu on Twitter

Last updated: February 24, 2013
Page editor: Jannecke Schulman
Source: Jannecke Schulman