MyUniversity - Decision making for a united higher education
Project leader DSV
Project team at DSV
Samuel Bohman
Pooyeh Mobini
Consortium (partners)
The MyUniversity Consortium consists of 13 partners from 7 European countries namely Belgium, Bulgaria, Greece, Lithuania, Slovakia, Spain and Sweden.
GFI NV, Belgium
Government To You (Gov2u)
Scytl Secure Electronic Voting S.A. (Scytl)
Centre de Serveis Científics i Acadèmics de Catalunya
Slovak University of Agriculture in Nitra
Rey Juan Carlos University
Stockholm University
University of Prešov in Prešov
International Business School Bulgaria
University of National and World Economy
University of León
University of Vilnius
Slovak University of Technology in Bratislava
Project duration
-July 2013
Funding
EU
Description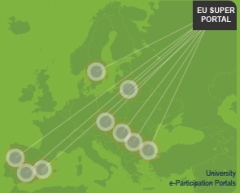 One of the key aspects towards the success of the Bologna Process is the close cooperation and interaction between governments, higher education institutions, students, staff, employers and quality assurance agencies.
MyUniversity project will equip universities from Bulgaria, Lithuania, Spain, Slovakia and Sweden with a cutting edge e-Participation platform so they can actively participate in the higher education decision making process with valuable input towards future policies and legislation, both locally and at European level.
MyUniversity project will provide an e-participation service that will facilitate:
The interaction between the university members (students and academic and administrative staff), university stakeholders and National/European associations/unions
MyUniversity is a project partially funded under the ICT Policy Support Programme (ICT PSP) as part of the Competitiveness and Innovation Framework Programme by the European Community. MyUniversity is designed as a trial project that focuses on the unification of European Higher Education and its effect on university stakeholders (i.e., students, teaching and administrative staff) with the aim of creating added value from the use of certain technologies.
WP1: Project management
WP2: MyUniversity integration
WP3: Trial execution
WP4: Trial content management
WP5: Analysis and assessment of results
WP6: Dissemination and Exploitation