Digital Innovation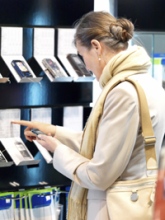 In digital innovation we conduct research, using a mix of methods, to study how the unique properties of digital technology is used to create services, products and business processes. The use of digital properties puts new demands on internal as well external innovation. The goal is to transform organizations to realize the opportunities that emerging digital technologies provide and to develop strategies to manage the challenges that occur. Important research themes are:
Emerging digital technologies and their implications on business processes, organisation and business models.
Design principles and forms for organizing and accelerating digital innovation.
Incumbent firms' and start-up firms' abilities to take advantage of the benefits from and contribute to ecosystems for digital innovation.
Innovation barriers that hamper different actors' abilities to create value through digitalization.
Service platforms for digital service innovation with open data, so called "Open Digital Innovation".